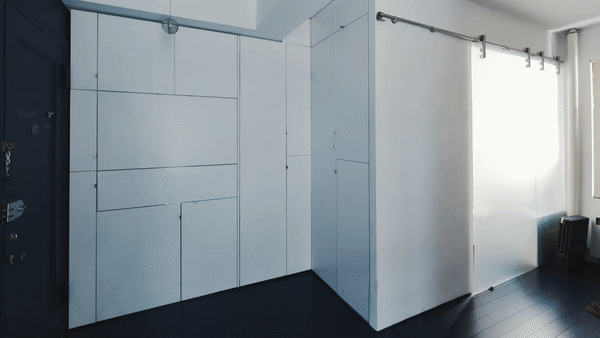 Park Avenue Studio
Architecture / Interior Design / Construction Management
Completed 2008. Size: 220 s.f, New York City
This ultra-minimal apartment focuses on function to create timeless design, featuring custom paneled walls, frosted glass and stainless steel hardware.
All too often, living the New York City lifestyle means making the most out of a confined space. To accommodate this we redesigned this 220-square-foot studio apartment in Manhattan to conceal the clutter of everyday life. Designing small spaces is rooted in simplicity, where anything superfluous will put a tax on the usable area. The goal is to make an apartment that feel far more spacious without sacrificing practicalities of everyday life.
In keeping the apartment as free and open as possible the front panel of the bookcase is a collapsible table hiding a pair of custom folding chairs for intimate dining and a blind corner in the bathroom conceals shelving for everyday toiletries.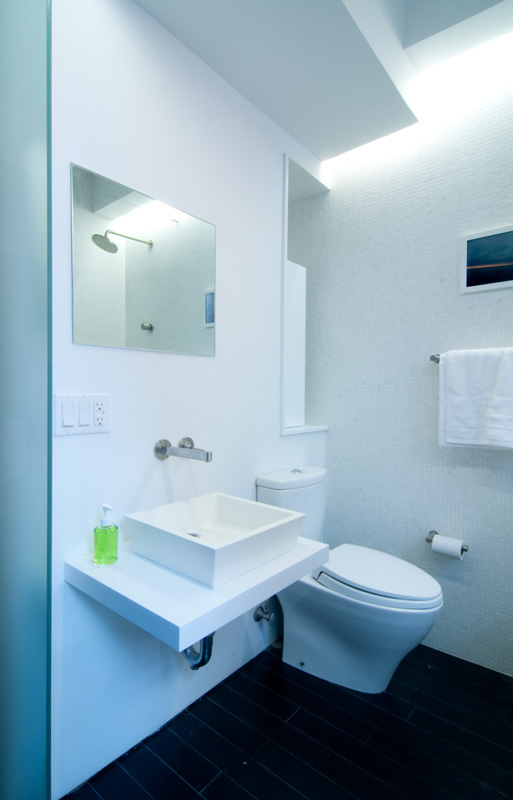 The custom cabinetry is composed of an array of hinges, folds and other articulating mechanisms that maximize the efficiency and space of the studio. The frosted sliding barn doors and white mosaic tiled walls in the bathroom allows natural light to fill the space even further. Dark Bamboo floors not only provide a modern aesthetic but are extremely durable, sustainable and is environmentally conscious as well.